Testimonials
Andy and Dane Emmet, Barwick in Elmet, Leeds
"I'm more than happy with the way he's progressed in such a short space of time!"
To play this YouTube video you must enable video cookies - more info. Enable Video Cookies
"I found Andy on Youtube and was impressed with his playing and teaching ability from the quick videos I saw of him. I got him to have lessons with Dane and I'm really pleased with the way he's brought Dane on. He's also improving my playing too, which is really beneficial for the both of us!"
Eddie Hollingsworth, Stanningley
"I've had Andy as a guitar teacher for about a year now, and I've learnt more in that year than I did in three years before.Andy is a great tutor, he has helped me with my improvising and he has taught me many covers and solos. Not only that, but we advance on covers and find good riffs and licks that I am able to use im my own songs. He has also helped me with learning songs by ear which is a great help instead of being totally dependant on guitar tabs all of the time. He is a great tutor and I recommend him 100%."
Lewis Barn, Leeds
"Andy Crowley is a great Guitar Teacher!"
Danny Raw, Dewsbury
"I've been having guitar lessons with Andy for over 2 years now, which I consider an endorsement in itself. Andy has taken me from a complete beginner who didn't know one end of a guitar from the other, to someone who performed on stage, to a large audience last weekend. (without being boo'd!)"
"Andy has a relaxed approach to teaching and has a lot of patience. Over this time I've learned not only guitar focused techniques from Andy, but also about music, it's structure and principles in general. Andy is a very competent guitarist himself and has a good ear. In my two years under his guidance I've also come to regard him as a good friend and have made some other good friends through his regular Jam Classes for his students."
"Andy's Jam Classes were the mechanism which allowed me to practice and gel what I'd learn't with Andy in lessons. This was the means by which I ended up playing live as a band member last weekend. He grouped me with some other of his students with similar tastes, started us playing together coherently and then took us to practice studios to play with a drummer and himself on Bass and Vocals. Within a few short months, we were banging out rock songs and having a blast. I'm having a really good time at the Jams, they're a brilliant effort on Andy's part."
Niamh Duffy, Leeds
"I highly recommend Andy to anyone looking for an experienced and versatile guitar tutor. I've been having lessons with Andy since September. Being a music teacher myself (but a complete beginner on guitar) I was extremely nervous about starting an instrument from scratch again! However, Andy provides a warm and welcoming environment, in which you feel comfortable to progress at your own speed. Andy caters repertoire to the individual so you are able to learn by playing songs/genres you enjoy. Lessons are structured to enable you to build on achievements from the previous week, giving you the confidence to develop further technique."
Brian Galloway, Sherburn in Elmet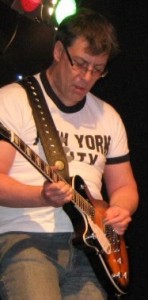 "I can now play songs I never dreamt I'd get close to. Wish I'd gone to Andy first."
"Andy is an excellent tutor, he takes things at a pace to suit the learner but I always leave feeling I've moved forward. His lessons are always enjoyable and also work on technique and theory with the bonus of being able to record my playing."
"Andy puts his heart and soul into teaching and goes well beyond the call of duty. Not only is his teaching excellent -taking me from absolute beginner to playing my first gig in under two years- but he also pushes and challenges me with innovative features such as the jam classes. These led to formation of a band and our gig which could not have happened without Andy's constant input, direction and assistance."
"I cannot recommend Andy highly enough. Great results, great value."
Gary Hilman, Leeds
"Andy is young, vibrant and intuitive. He can play great guitar and piano, and covers a wide range of genres. Also he can record the music you learn too.I would recommend you give Andy a call now, HE can bring your dreams alive and take you where you want to be, only trouble is he supports Barnsley FC!"
Lesley Sunderland, GP. Cookridge
"Andy took me on; listened to what I wanted to learn and pitched the lessons at the right level with just enough challenge to motivate me to practice and achieve results!"
"After growing up with 'Monsters of Rock' in the late 70s, I decided I wanted to learn to play lead guitar so looked for a guitar teacher. I had a classical music background and knew some very basic guitar chords. His relaxed style, his knowledge and and flexible approach has helped me to progress massively. I'm now having great fun playing along with my CD collection!"
"Also, as the female member of the Rock Jam Class… just wanna say, great to have the opportunity to perform. Makes you raise your game. We kicked ass!"
Owen Martin, 17. Leeds
"I can demonstrate tangible improvements in my guitar playing week on week!"Since commencing acoustic guitar lessons with Andy approximately 3 months ago I have noticed dramatic developments in my knowledge of chords and chord sequences as well as my strumming and finger-picking techniques. I would strongly recommend Andy as a guitar tutor who provides a very supportive environment allied with great musical knowledge, technical expertise and excellent communication skills. His lesson plans are always stimulating and varied and tailored to my learning needs accordingly."
Mark Lee, Kirkstall
"Andy is an excellent teacher and seems to really care about his students and helping them to advance.I would recommend Andy to anyone of any age who is interested in learning to play the guitar."
Ernie Butterfield, Leeds
"Finding Andy's name was pure luck , but what a major stroke of luck it was - he is excellent."
"At the age of 48 having never even held a guitar, but liking the sound of guitar music, I decided to take lessons in October 2010. Andy has a wealth of knowledge, his enthusiastic, informal and friendly way of teaching and the challenge's he sets weekly makes every lesson a fun experience and something I look forward to. I dont mind saying I consider Andy a friend for life now. I have no problem recommending him to anyone wishing to learn guitar as I am 100% sure they wouldn't be disappointed, I haven't been!!"
"Andy has a knack of turning every lesson into a most enjoyable experience, even if what he is asking you to do is totally alien, which 9 times out of 10 it is as far as I am concerned. Added to that Andy then suggested that I might like to get involved with his Rock Jam Class which has fetched me on leaps and bounds (I think), not only is it good for me, but it meant I met people who are interested in a similar type of music as me, so much so in fact we have played a live gig and I think I can speak for us all when I say we can not wait for the next gig.If you are reading this with a view to taking lessons with Andy, go for it I am 100% certain you will find it the best move you have made recently."
Ed Dodman, Chapel Allerton
"To keep it short – he is excellent. If you want that expanding on…"
"I've been having lessons with Andy for nearly a year now and as I am almost certainly his most elderly pupil I think I can give you a good idea of what he is like as a tutor. The first thing you will find that Andy is always cheerful and bubbly. He really wants to help you to get on with your playing. He tailors his lessons to the music you are interested in and adjusts them to your current capability. But he is always trying something new to keep you interested and help you advance your playing."
"Although his lessons are extremely practical he drops in little bits of theory and advice so that you pick things up without any pain. And it's fun – since starting lessons with Andy I am really enjoying practicing and even my wife, who is totally tone deaf, says I have come on leaps and bounds. Finally, which is important, Andy offers great value for money. I can recommend him wholeheartedly."
Katharine Hartley, Horsforth
"Andy is a fantastic teacher, more than just teaching me how to play songs on the guitar, he taught me how to become a guitarist."
"I cannot recommend him enough!"
Mike Ridsdale, age 16. Leeds
"Couldn't ask for more."
"I've been having lessons with Andy for a year and a half now and I don't think I would have ever got as far as I have without his help."
"He's a brilliant guitar player and and an extremely helpful and friendly teacher. Hes helped me with playing, music theory, music production and given me great advice on purchases which as a beginner was a very daunting task."
Martin Wanless, Leeds
"I'd thoroughly recommend anyone giving Andy a go – I wasn't disappointed, and I'm sure you won't be either."
"I'd messed around with various 'teach yourself' books for a couple of years, and regularly reached a point of knowing a few chords and then giving up for a while after it became quite tricky. I thought I may as well take a few lessons, and found Andy on his website – I learned more in the first couple of lessons than I had ever before. All of the things that I was stumbling over were rectified very quickly and that allowed me to progress well after that."
"His teaching style is relaxed, guided by where you want to go and what you want to achieve, and lessons are enjoyable. After only three or four months of lessons I am now comfortable playing quite a few 'basic' songs, and have also reached a stage where I can figure things out in terms of notes, sounds etc that I would have had no chance of knowing before. Also, he identifies small things that make a huge difference to the sound of what you're playing, which I'd have no chance of doing myself."
James Coates, 21, Student, Leeds
"I had very few lessons before starting with Andy but his practical, hands on teaching methodology has helped me understand the fret board and eliminate the need for tabs."
Gareth Wood, Bradford
"I like band/guitar music and enjoy very different styles from Blondie to Van Halen and even Joe Bonamassa. One of the attributes that I like about Andy is his love of all music, something I really respect."
"We have very open style lessons which I really enjoy. The guitar is a great instrument, but takes time and no matter how many times I might make mistakes, I always leave a session having had a laugh and having learned something new that helps me do what I want to do. There is never any pressure to practice for hours everyday. Instead, I'm given a concise practice routine of essentials that improve my playing day by day, along with other cool things to try out. It's a case of learning to play an awesome instrument, and have fun doing it. If that's what you want, then Andys' your man!"
Richard Stenson, Headingley
"Hi my names Richard and I've just started learning to play guitar with Andy as an absolute beginner. He's a really good and friendly teacher, I learned so much in just a few lessons which are always enjoyable."
"I would recommend him to anyone who wants to learn, as he plays a wide range of guitar music."
Iain Greenwood, 32, Leeds
"Andy has been an excellent help in teaching me the basics of the guitar. With an informative, informal approach, he splits the lessons up superbly with technical tutoring and practical song learning helping you to play some of your favourite riffs."
Martin Lane, Leeds
"Hi my name is Martin and at the age of 51 decided to learn the acoustic guitar. I tried to teach myself but was making very slow progress. I had a lesson with Andy just to see if it would suit me. I found Andy to be very relaxed and enthusiastic tailoring the lesson to my pace. I have improved with every lesson going away each time with songs to practice on. Because I work shifts my lessons can be on different days but Andy always sorts me out and is only an e-mail away."
David Heartly, Bramhope
"My son (10 y.o.) & me have been having lessons for the last 10 weeks & can only recommend Andy to future prospective clients. His patience & teaching techniques have been invaluable in enabling 2 complete non-guitar players to already be in a position to strum through whole songs."
Melanie Race, Leeds
"I began lessons with Andy over a year ago and have thoroughly enjoyed learning the guitar with him.Andy's lessons are always well structured and involve a mix of both theory and practice. They are tailored to the types of music that you most enjoy, so that you can learn the guitar through playing your favourite songs. I feel that Andy's lessons have not only improved my knowledge of the acoustic guitar, but have also greatly improved my confidence."
My complete HD beginner course includes content not available anywhere else. Learn with 63 video lessons including exclusive crucial material and extra materials that are not and never will be available on YouTube!